AMCC, member of FENCA
Since its establishment, AMCC is a full member of FENCA.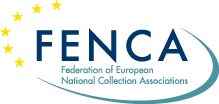 About FENCA
FENCA, established on January 15, 1993, is a nonprofit organization that protects the National Associations.
Protect and care for the interests of the National Associations members
Promote the development of European legislation for the collection of receivables
Promote development of the following issues within the National Associations:
Customer capital will be collected separately from the company's capital.
Have a special insurance to protect customers.
Establish a committee to resolve complaints.
Establish training facilities.
Establish ground rules and rules on the conclusion of contracts and agreements between agencies and their clients.